Import from Database-Query Tab
The Query tab consists of three parts; the query structure box on the left, the search options on the right, and the query criteria box at the bottom of the window.
Query Structure
The following methods can be used to specify the query structure:
Dragging a file that contains the query structure to the picture box.

Double-clicking the box and drawing the structure for the query. It is also possible to import the file or open one in the structure editor.

Pasting a structure from the clipboard by right-clicking on the box and using the Paste context menu item or by using the Ctrl+V shortcut.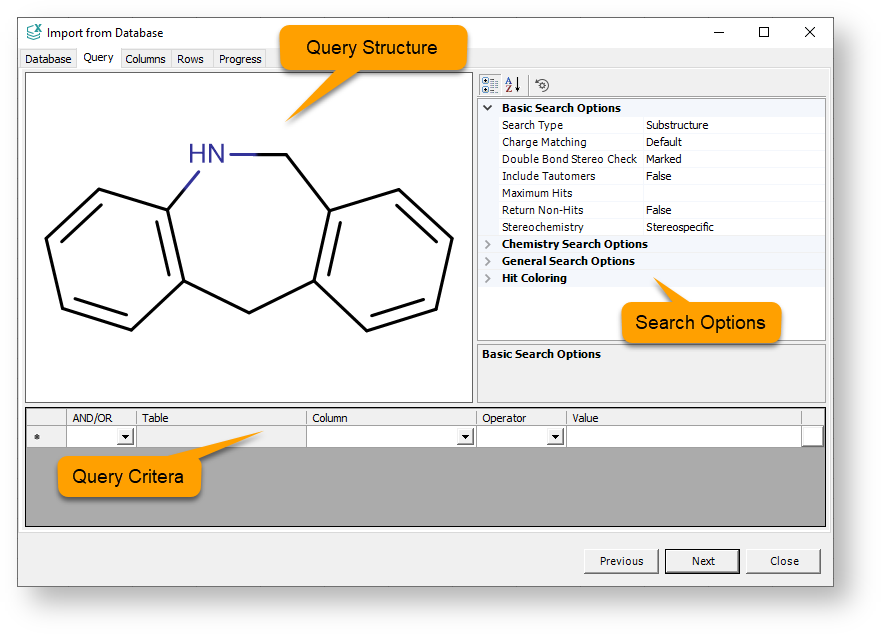 Query Criteria
It is possible to specify additional query criteria for import on the Query tab. Columns could be filtered based on the following criteria:
| | |
| --- | --- |
| Numeric columns | Text-based columns |
| =, <>, <, <=, >, >=, IS NULL, IS NOT NULL | =, <>, <, <=, >, >=, IS NULL, IS NOT NULL, Like, Starts with, Ends with, Contains |
The decimal separator must be specified as . regardless of cultural settings.
Query Criteria for Related Tables
If the selected table contains related tables, it is possible to specify query criteria on those columns as well.
Related tables are tables that have foreign key-relation between them defined in Oracle. This information is retrieved from the Oracle schema.
How to Specify a Query Criterion
Select AND or OR from the AND/OR column. Only one logical operator can be selected for all the criteria.

Select the database table (all the related tables are listed here, together with the original table).

Select the database column (only columns for the previously selected table are listed here).

Select the operator.

Enter a value.
Examples
Find all structures where the molecular weight is less than 250, and the formula begins with C10.
JChem for Excel automatically recognizes if the selected column is a date type and the date picker becomes available.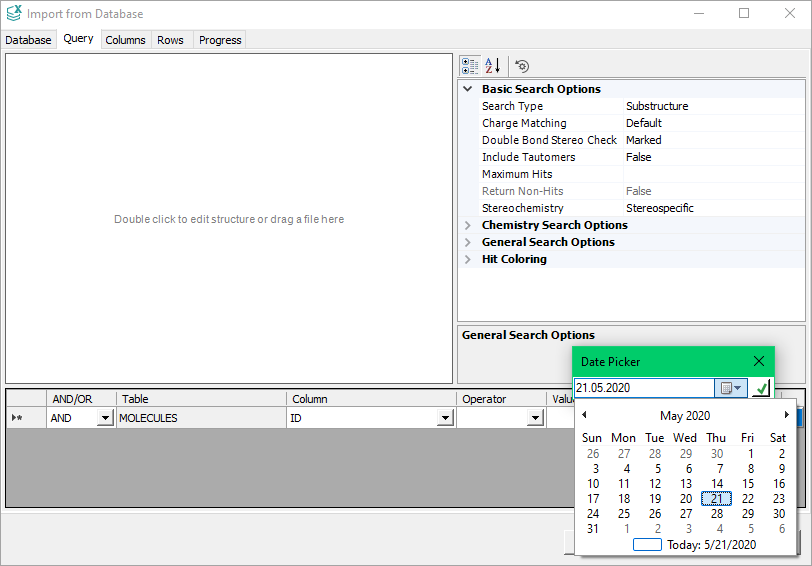 By using the date picker application, you can easily specify the desired date. The application uses the dd.MM.yyyy date format.
It is also possible to enter the date manually in other popular date formats. The following formats are supported:
dd.MM.yyyy

dd-MM-yyyy

yyyy-MM-dd

yyyy.MM.dd

yyyy/MM/dd

MM/dd/yyyy
If an unsupported format is entered, a red exclamation mark appears at the end of the Value field with a Should be a DateTime tooltip.
Deleting a Query Criterion
Select the row by clicking on the row header.

Press the Delete button on the keyboard.

Clicking the Next button switches to the Columns tab.