Choral Installation on Amazon Oracle RDS and Fargate
Prerequisite
An RDS database running with a user that the Choral service can use to create its backend data. In this docs this user will be referred to as <RDS user> and <RDS password>.Fargate service CPU and memory capacity is limited, you can check if the suggested values do not exceed Fargate's capacity. If memory seems insufficient, you can uncheck caching options to lower memory requirements. If it still exceeds Fargate's capacity then our recommendation would be to run Choral service in an EC2 instance as it is described in this documentation.
System architecture diagram
By default the index data of the Choral service is stored on the filesystem, but in case of Fargate to prevent loss of data on service failure and for easier backup the Choral service can write back the index data to the RDS database as depicted on the diagram below.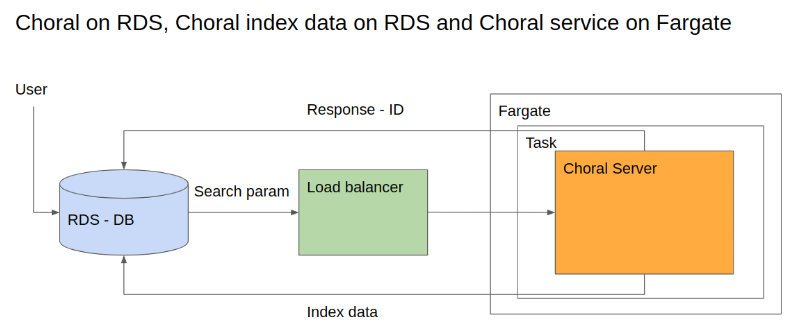 Installation steps
Known issue
Duration of chemical searches where Oracle and Choral Server communication has the larger share of the search time depend on RDS and EC2/Fargate communication. Such searches are e.g. limited searches or similarity searches. On the other hand Choral Server intensive searches' speed depend rather on the Choral Server speed.