Copolymers
If the structure consists of more than one repeating unit (mon, mer) or structural repeating unit, Copolymer (co) brackets/groups can be used to represent the structure.
Copolymers might contain crossing bonds and star atoms.
The following copolymers can be drawn:
random(ran)

alternating(alt)

block with or without junction unit (blk)

copolymer to represent modified polymers (mod)

copolymer to represent grafted polymers (grf)

copolymer to represent cross-linked polymers (xl)
For example: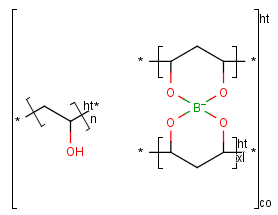 How to draw a copolymer
Create the components to form the copolymer.

Click the Group tool on the toolbar then select the components to be included.

In the " Create Group " dialog window choose the type ("Copolymer (co)", "Copolymer, alternating (alt)", "Copolymer, block (blk)" or "Copolymer, statistical (stat)") from the " Type " list.
How to add a new subpolymer to a copolymer
Draw the subpolymer to add outside of the bracket.
How to delete a subgroup from a copolymer
Select the subpolymer to delete.

Press the Delete button on your keyboard or with the Erase tool.