Abbreviated Groups Dialog
How to Put an Abbreviated Group onto the Canvas
Open the Abbreviated groups dialog by clicking the Abbreviated groups button on the Template toolbar or by pressing the Space Bar. Start typing then select a group from the appearing list, then close the dialog and the selected group appears on the tip of the cursor. You can place it on the canvas with a left-click.
Alternatively, you can start typing the symbol of any of Abbreviation or Homology group over the canvas when it is in focus. This will place the appropriate atom on the cursor.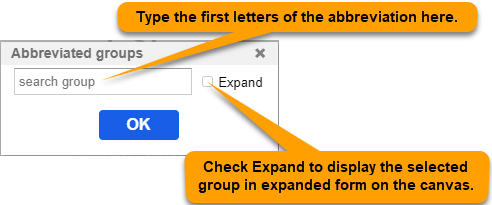 For a complete list of default abbreviated groups in Marvin JS, see Default Abbreviated Group List in Marvin JS.