JChem for Excel File Converter Context Menu Item
It is possible to convert the following file formats to JChem for Excel files through the context menu:
In the case of Insight for Excel conversion, DotNetPPChemSDK_GAC.dll must be available on the computer on which the conversion will be running.
Otherwise, an error is thrown when the conversion is initiated.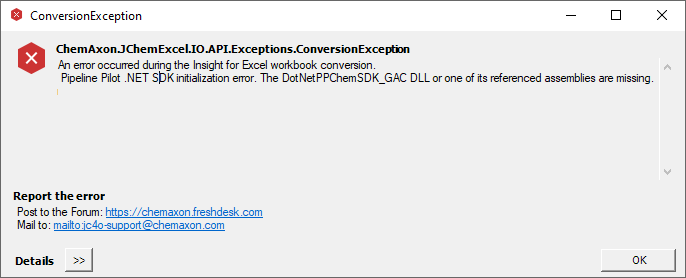 Follow the steps below to convert Accord for Excel, ChemDraw for Excel, Insight for Excel, or ISIS Excel files to JChem for Excel files.
Open the Accord, ChemDraw, Insight, or ISIS Excel worksheet.

Right-click somewhere on the worksheet and select the appropriate file format to be converted ( Convert > Convert (from) Other Workbooks ).

After this step, the conversion process is similar to the one with the ribbon action, the converted file can be saved with a specified name.

If the conversion processed successfully, an informing message appears.

| Conversion | Result |
| --- | --- |
| ISIS to JC4XL | |
| ChemDraw to JC4XL | |
| Accord to JC4XL | |
| Insight to JC4XL | |
| OLE to JC4XL | |